Evaluation of Antivirus for DVD-Cloner
DVD-Cloner is guaranteed 100% clean by Softpedia, Filehorse, Place77 and many other websites. It was tested thoroughly and was found absolutely clean. It does not contain any form of malware, including but not limited to spyware, viruses, trojans and backdoors. Therefore, it can be installed with no concern by any computer user.
Evaluation of Antivirus for DVD-Cloner
The DVD-Cloner software has been granted a 100% clean bill of health by a series of credible sources, including renowned tech platforms such as Softpedia, Filehorse, Place77, as well as numerous other reputable online platforms.
These platforms conducted comprehensive tests on DVD-Cloner and found it to be absolutely devoid of any threats to your device's health and integrity. It was confirmed that DVD-Cloner does not harbor any form of malicious software, or malware, such as spyware, viruses, trojans, or backdoors. This ensures that it can be safely installed by any computer user without the fear of infecting their machine with harmful software.
It's worth noting that these test results have not only proven the software's safety but also established its reliability. DVD-Cloner is not just clean, it is also trustworthy and dependable. This makes it an excellent choice for users who require a reliable DVD cloning tool for their day-to-day tasks.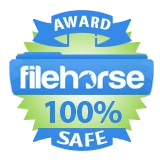 This image certifies that Filehorse, a well-regarded software download platform, has evaluated DVD-Cloner and found it to be 100% safe for users.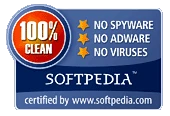 Here, we have a badge from Softpedia, another respected source in the tech world. They too, after comprehensive testing, have declared DVD-Cloner as a 100% clean software.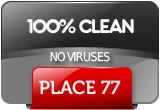 Place77, an online platform offering reviews and downloads for various software, has also given DVD-Cloner the clean bill of health, reinforcing its safety for users.
This multitude of assurances from trusted sources should inspire confidence in any potential users of DVD-Cloner. It's an assurance that this software, besides its usefulness in creating perfect DVD copies, places the utmost importance on the security and integrity of your computer.