DVD-Cloner Gold Screenshot
---
Features
DVD-Cloner 2022 is all-in-one professional DVD copy software with perfect output image quality. With DVD-Cloner, you can get a software combination of DVD copy, DVD to MKV, Blu-ray copy, Blu-ray to MKV, UHD copy and UHD to MKV. It is very valuable and save you a lot.
Features of DVD-Cloner:
Without any third party DVD decrypter, this best DVD copying software has unlimited access to all region codes and copy protection systems. It removes all known DVD copy protections.
Express interface: Recognize your disc type and provides suitable ways for you to make one-click copies.
Expert interface: Professional copy for experienced users, make custom DVD copies with intuitive titles.
6 diverse copy modes: Perfect 1:1 DVD copy, movie complete copy, movie-only copy, split copy, movie chapter copy and DVD to MKV.
Lightning Copy Speed. The new upgraded HST function allows you to copy Blu-ray/UHD movies with only about three hours, which greatly improved the copy speed. (NVIDIA 1660 or above graphics card recommended)
Rip 4K UHD movies to MKV (HDR 10+) format and play on your UHD player, which allows you to enjoy the same HDR and Dolby HD audio effect as the original disc.
Copy DVD to ISO or burn ISO to DVD.
Copy Blu-ray/4K UHD Blu-ray movies to a blank BD-R/RE (DL) with movie-only copy or to the hard disk.
Supports HST acceleration to improve the H.264/H.265 encoding speed.
Make flawless copies of scratched DVDs, so you can bring your damaged movies back to life.
Duplicate multiple DVD copies without having to repeat the entire process again.
Works as a third party Blu-ray decryption plug-in, which allows VLC to play encrypted Blu-ray and UHD movies.
Multi-language interface support, suitable for users from different countries.
Send us quick feedback in real time via the shortcut window within the software.
Zoom in/Zoom out the operation interface according to your preferences. The maximum is 200%.
Free bonus software Stream-Cloner Lite and Open DVD Ripper Lite.
Compatible with Windows 11.
Open SmartBurner is a brand-new tool to burn data files and video files to DVD/Blu-ray discs. It enables you to burn data files, software, pictures, music, videos, etc. to a DVD or Blu-ray disc for archiving. Besides, you can convert video files such as AVI, MP4, FLV, MPG, MKV, M2TS, TS, VOB, MOV, WMV, RM, RMVB, etc to DVD/Blu-ray video format for playback on a standalone player. With this smart tool, DVD/Blu-ray burn becomes so easy and fun.
Key features:
Burns data files to a DVD data disc.
Burns data files to a Blu-ray data disc.
Makes a DVD video disc from video files.
Makes a Blu-ray video disc from video files.
Creates ISO files from data files, software, music, videos, etc.
Burns the existing ISO file on the hard disk to a DVD/Blu-ray disc.
Supports single-layer DVDs, dual-layer DVDs, single-layer Blu-ray discs and dual-layer Blu-ray discs.
Supports making PAL DVDs or NTSC DVDs from video files.
Supports 720p and 1080p output for making Blu-ray video format.
Converts video files to DVD/Blu-ray video format for playback on a standalone player.
DVD-Cloner's Bonus Software
Free to download and capture online movies from the Internet for you to enjoy.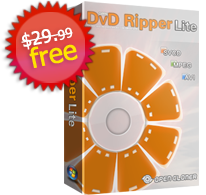 Open DVD Ripper Lite is a smart ripping tool to convert DVD discs, DVD folders and ISO files to AVI, MPEG and SVCD formats. This one-click solution supports the conversion of the latest DVD movies. Besides, Open DVD Ripper Lite supports source movie preview and batch conversion. The wizard interfaces make the converting process easy and fun. The GPU acceleration function of Open DVD Ripper Lite largely increases the DVD conversion speed. Users can play back the converted movie quickly after the conversion with the shortcut icon. Now let's get the $29.99 worth of Open DVD Ripper Lite for free! Note:The registered users of Open DVD Ripper Lite (or DVD-Cloner 2022) can click here to upgrade to Open DVD ripper with only $14.99, to convert your DVD movies to much more video and audio formats.
More Info
---
Free to convert DVD movies to AVI, MPEG and SVCD formats.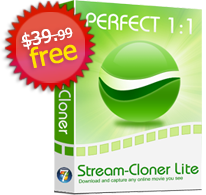 Stream-Cloner Lite is a smart stream downloader to download and capture streaming video/audio from the Internet. With Stream-Cloner Lite, you can save and play back the downloaded and captured streaming video/audio directly on your PC. It enables you to download and play back multiple tasks at one time and adjust the parameters of the downloaded or captured movies. Now let's take this valuable opportunity to get Stream-Cloner Lite worth $39.99 for free! Note: The registered users of DVD-Cloner 2022 can click here to upgrade Stream-Cloner Lite to Stream-Cloner with only $14.99, to download online videos from all video and video-sharing websites as well as enjoy the video conversion function!
More Info