Q: How do I register DVD-Cloner?
A: We will send you a registration code upon receiving your payment. Then you can register DVD-Cloner with your registration code and registration Email.
Registration procedure:
Run the trial version of DVD-Cloner, and then the registration window will pop up.

Enter your Registration Code and Email, and click "Register". If you can't register under the "Main server", please try the "Backup server".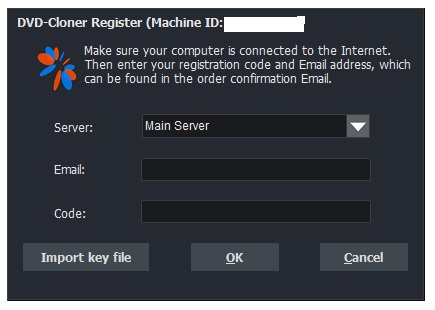 If the registration succeeds, the buttons "Register" and "Buy" will disappear. If it is unsuccessful, the following window will pop up:

Click "Yes" and DVD-Cloner will go to www.dvd-cloner.com to make a manual key for you. Then you'll get the key file.

Check your Email, and you will find the link of the "registration file" for your DVD-Cloner. Download and copy it to DVD-Cloner's home directory, such as C:\Program Files\DVD-Cloner. Now you can enjoy the full version of DVD-Cloner!
If you can not get a manual key this way, please click https://www.dvd-cloner.com/online_register.html to make a manual key by yourself.
If you still can't register DVD-Cloner, please contact our support team http://www.dvd-cloner.net/support_client/ticket.html.