How to use VLC Media Player to play Blu-ray or 4K UHD disc?¶
---
1. What's VLC Media Player?¶
'VLC Media Player' is a free media player developed by VideoLAN. It can play a variety of video files, as well as unencrypted DVDs and BDs. Detailed functions can be found at VLC's official site. But 'VLC Media Player' can't play Blu-ray DVD with AACS protection. If you try to use VLC to play encrypted Blu-ray DVD, you will see the following error: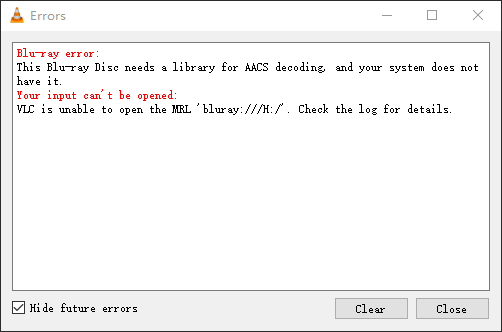 If you want VLC to play Blu-ray discs with AACS encryption, you need to install the AACS crack plugin. Now, OpenCloner Inc. has developed the AACS crack plugin 'OpenCloner Decode Widget'. By installing this plugin, VLC can realize the function of playing AACS encrypted BD discs. If you also want to play 4K UHD discs, then you need a UHD friendly drive first. Please learn what is UHD friendly drive here.
2. How to get 'OpenCloner Decode Widget'?
OpenCloner Decode Widget is a decryption AACS plug-in for third-party software that can remove AACS, BD+ protection.
This plugin is included in the OpenCloner Ripper software , DVD-Cloner , OpenCloner UltraBox and Blue-Cloner install package. You can install any of these 4 software in the software download page .
OpenCloner Decode Widget is not free software. You need to register any of the following Opencloner products in order to get a license, otherwise you will only be able to try it for 10 minutes.
3. How to install/uninstall 'OpenCloner Decode Widget'?
a). Download and install the latest version of VLC Media Player x64 version at VLC's official site.

b). Run the OpenCloner Ripper installer. When you see the window shown below, select 'Yes' to install the OpenCloner Decode Widget plugin.
Note: If you are using DVD-Cloner or Blue-Cloner one click installer, you will not see the following window. The plugin will be automatically installed by default.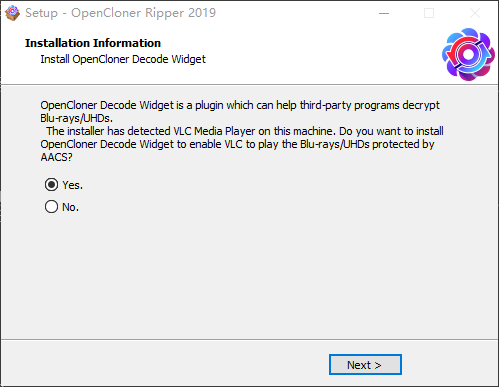 If you do not see the window above, the installer does not detect that VLC is already installed on the system, you need to re-download the latest version of VLC installation, and then reinstall OpenCloner Ripper.
You can open the PlayerPlugin.exe program to view the installation and registration of the OpenCloner Decode Widget. This file is located in the OpenCloner Ripper installation directory, which is usually: 'C:\Program Files\OpenCloner\OpenCloner Ripper'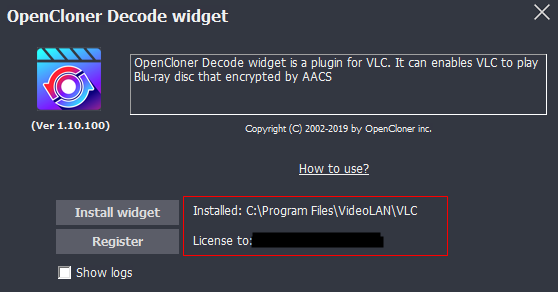 If you want to uninstall this plugin, just uninstall OpenCloner ripper.
4. How to play Blu-ray or 4K UHD disc?
Start VLC and select "open disc …" (ctrl+D) from the Media menu.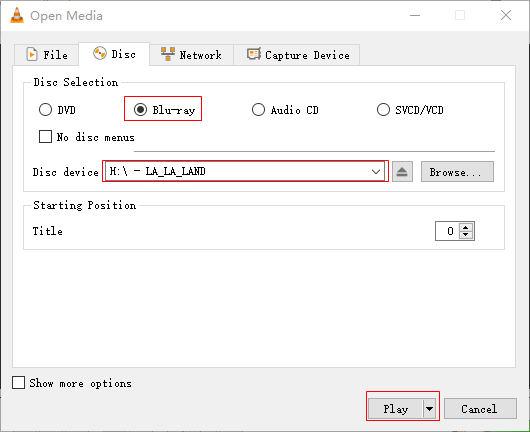 Select the CD-ROM where Blu-ray disks are located, then click 'play'. When the following notification message is seen in the lower right corner of the display, the OpenCloner Decode Widget has been called correctly.

Wait a moment, VLC should be able to play the disc normally.
5. How to play dvd menu?
Many Blu-ray movies use the JAVA menu. If you see the following error during playback, you need to install the java package to play the Blu-ray menu.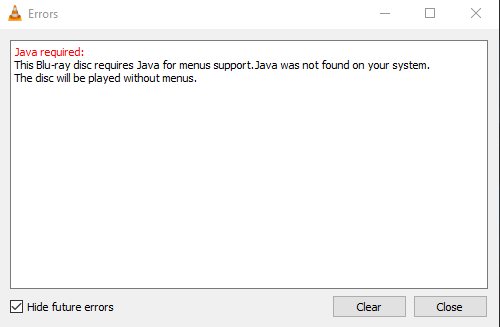 Download and install java from the Java site to resolve this issue.
6. How to set VLC Blu-ray region code?
Open the VLC Preferences window, select "show settings=ALL" in the lower left corner, then select Input/Codecs -> Access modules -> Blu-ray in the list on the left, and then you can change the player's default area code.
---
---